Poisoned soil suspected cause of Vietnam illness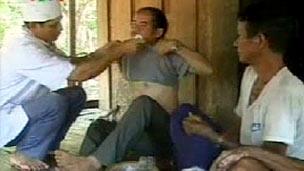 A mystery illness that has claimed 21 lives in Vietnam may have been caused by poisonous heavy metals in the soil and toxic mould on rice, officials say.
At least 200 other people have been made ill by the condition, which begins with a skin-rash but can progress to liver problems and organ failure.
Health advisers have been sent to the Ba To area, in the central province of Quang Ngai, to determine the source.
Vietnamese officials said many of those who fell ill were also malnourished.
This meant their immune systems did not have the resources to fight the disease, they said.
The World Health Organization has said an epidemiologist is working with authorities in the affected area to try and establish the cause of the outbreak.
According to the health ministry, initial findings reveal that victims have been poisoned by a chemical imbalance in the soil.
Investigators have found traces of heavy metals including arsenic, lead, cadmium and mercury in the soil, though the exact source is not yet known.
Officials also found mould growing in uncooked rice which had been improperly stored due to a lack of facilities.
The ministry said it is sending a team to help teach people to protect themselves, and to supply dialysis machines to local medical centres.
Related Internet Links
The BBC is not responsible for the content of external sites.