South Korea president visits Burma bomb attack site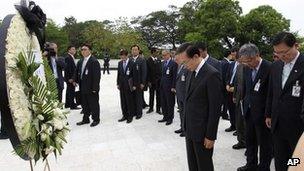 South Korean President Lee Myung-bak has met Burma's opposition leader Aung San Suu Kyi in Rangoon and visited a mausoleum where a deadly North Korean bomb attack took place 29 years ago.
Mr Lee is the first South Korean leader to visit Burma since the 1983 attack, which targeted the South Korean president and killed 21 people.
Security was stepped up in the city for Mr Lee's visit.
On Monday he met Burma's President Thein Sein in the capital Nay Pyi Taw.
Mr Lee's two-day visit to the South East Asian nation was to discuss economic co-operation, officials said.
Details for the trip were kept secret until Monday due to security concerns in the wake of strong North Korean rhetoric against Mr Lee, officials said.
Police trucks and officers have been seen in Rangoon since Monday, especially around the site where the attack took place during a visit by former President Chun Doo-hwan almost three decades ago.
Seventeen South Korean officials - including cabinet members and members of parliament - and four Burmese people were killed as they waited for Mr Chun to visit the Martyrs' Mausoleum.
Mr Chun narrowly escaped because his car was stuck in traffic, causing him to be late for the event to lay a wreath for Burma's independence hero, General Aung San.
Three North Korean suspects were identified - one died while being arrested. Of the other two, one confessed and was jailed for life, while the other was hanged.
Burma cut diplomatic ties with North Korea in 1983 but resumed them in 2007.
Mr Lee paid his respects to victims of the attack at the mausoleum after his talks with Ms Suu Kyi.
"I hope this will serve as a comfort for the bereaved families. This kind of history should never repeat," Yonhap news agency quoted him as saying.
Mr Lee is the latest in a series of world leaders and diplomats to visit Burma as it continues to introduce political reform following the transition from military to civilian rule.
On Monday, Burma agreed to free a North Korean defector serving a five-year prison term since 2010 for illegal border crossing, said a Yonhap news agency report.
The unidentified man would be freed soon so he could travel to South Korea, officials said.
The South East Asian nation also promised to adhere to a United Nations resolution targeting North Korea's nuclear and missile programmes, the report added.
Mr Lee travelled to Burma from Beijing, where he had met the Chinese and Japanese leaders for two days of trilateral talks.
Tensions with North Korea following a failed rocket launch last month were discussed at the annual three-way summit on Sunday. But there was no mention of North Korea in a joint statement issued on Monday.
The meeting in the Chinese capital came amid speculation that Pyongyang may be planning a third nuclear test.