Four South Korean activists detained in China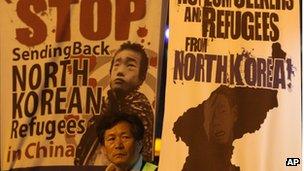 Four South Korean activists have been detained in north eastern China, officials say.
South Korea's foreign ministry said the four campaigners were arrested in the Chinese city of Dalian on 29 March.
The arrests are believed to be related to the activists' work with North Korean refugees hiding in China.
Most North Korean refugees escape across the border with China and then make their way to South Korea via third countries.
The ministry identified one of the detainees as Kim Young-hwan, a researcher for the Network for North Korean Democracy and Human Rights.
The other three activists have not yet been identified.
The South Korean consul in the nearby city of Shenyang said it met with Mr Kim, but has not been able to make contact with the three others.
South Korea has asked the Chinese government to deal with the case in a swift and fair manner.
It is estimated that more than 20,000 North Koreans have fled to the South since the 1950s, with the majority of them escaping via China.
However, China treats such North Koreans as illegal economic migrants and repatriates them. Seoul and activist groups say the North Koreans face severe punishment if sent back.
Related Internet Links
The BBC is not responsible for the content of external sites.