Australian rangers shoot 'terror' saltwater crocodile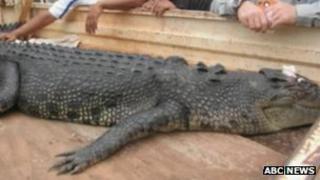 Rangers in Australia's Northern Territory have shot dead a saltwater crocodile with a taste for dogs, clothing and other oddities, local media report.
The 3.5-metre long (11.5ft) crocodile was attacking a dog at a beach near the community of Galiwinku on Elcho island on Tuesday when it was shot.
The injured dog survived the attack.
Police said they found the remains of another dog and a football in the crocodile's stomach.
It had also swallowed a pair of children's shorts and a nappy.
A local official was quoted by ABC news website as saying the crocodile posed a threat to the community, as it had been terrorising pets in the area.
The incident comes a few weeks after another saltwater crocodile which had reportedly eaten nine dogs was caught in another part of Australia.