Bangladesh opposition leader 'undeterred' by arrests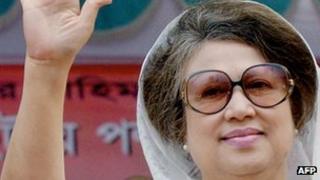 Bangladesh opposition leader Khaleda Zia has vowed to continue calling for general strikes unless the government restores a caretaker administration to oversee elections.
"I will not let any election happen under [the governing] Awami League," Ms Zia said in an interview with the BBC.
Her Bangladesh Nationalist Party has called a series of general strikes.
Several opposition leaders have been arrested in the last month and charged with arson - charges the BNP denies.
On Monday, 45 opposition members, including BNP acting secretary general Mirza Fakhrul Islam Alamgir, had charges for torching a bus during an anti-government protest accepted by a court in Dhaka.
The move has sparked anger from opposition groups, who say the case is fabricated.
Opposition members have also criticised alleged government involvement in the disappearance of dozens of people. There is particular concern over the fate of a senior BNP politician, Ilias Ali, who went missing in April.
Opposition demands
"The government wants to stifle the opposition movement," Ms Zia told the BBC on Sunday, "but the BNP is [a] large party, we have hundreds of leaders at grassroots level, so arresting and harassing our senior leadership will not deter us".
Bangladesh's 18-party opposition alliance, led by Ms Zia, has enforced a series of general strikes in recent weeks demanding that a caretaker government for elections be restored.
The governing Awami League abolished the caretaker administration arrangement, which requires parliamentary elections to be overseen by a non-partisan temporary administration made up mostly of retired civil servants and civil society figures.
But the move has never been accepted by Ms Zia.
"My first and foremost condition is that the government has to say in clear terms that they agree to talk on restoring the neutral caretaker government," she said.