Native title granted over Australia's Lake Eyre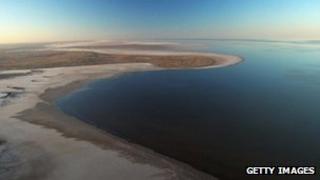 An indigenous group has been granted native title over Lake Eyre, Australia's largest lake when full, ending a 14-year legal battle.
The Arabana people will have unconditional access to the 69,000 sq km land for hunting, fishing, camping and traditional ceremonies.
In return, they gave up their claim to the land on which a small outback town was built, said local media.
The Lake Eyre site is believed to be sacred in indigenous culture.
The vast area is reportedly one-and-a-half times the size of Switzerland.
The well-known lake in South Australia is popular with tourists for boating and fishing, especially when the water is high - as it currently is.
Some local residents fear the court ruling will lead to these activities being stopped.
The claimants had in the past been opposed to boating on the lake, with elders in the community saying they wanted to end it.
"We are happy for people to come and enjoy this land and the lake, swim in it and see its beauty, but we do not want boats on the lake," Aaron Stuart, the chairman of the Arabana Aboriginal Corporation was quoted as saying in the Herald Sun.
"We want the site protected and we want the whole of the lake protected,'' he added.