Indonesia cuts Australian Schapelle Corby's jail term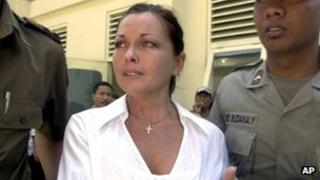 Indonesia has reduced the 20-year jail term of convicted Australian drug smuggler Schapelle Corby by five years following a clemency plea.
The president approved the move and officials had notified Kerobokan prison in Bali where Corby is being held, Indonesia's justice ministry confirmed.
Corby, 34, was convicted for drug smuggling in 2005 after 4.1kg (9lb) of marijuana was found in her bag at Denpasar airport in Bali in 2004.
Australia welcomed the cut in sentence.
"The Australian government has consistently supported Ms Corby's application for clemency on humanitarian grounds," Foreign Minister Bob Carr said in a statement.
Corby, a former beauty student who insists she is innocent, filed an appeal to have her sentence reduced with President Susilo Bambang Yudhoyono two years ago, citing humanitarian grounds.
Her lawyer, Iskandar Nawing, said that Corby's mental health had deteriorated while in jail.
Kerobokan prison was built to hold 300 prisoners but currently houses about 1,000.
Aside from Corby, it holds a number of foreign nationals, including members of an Australian drug smuggling ring called the "Bali Nine".
Indonesia's Justice Minister Amir Syamsuddin said Corby's conviction was "not related to heroin or other heavy drugs".
"It was purely marijuana and the marijuana didn't weigh hundreds of kilograms," he told Reuters news agency.