Chinese orchestra sacks Russian cellist in train row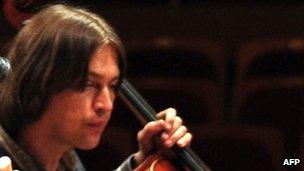 The Beijing Symphony Orchestra has fired a Russian cellist for insulting a train passenger who asked him to take his feet off a seat.
Oleg Vedernikov later apologised, but has now been sacked for damaging the orchestra's reputation.
The incident was filmed by another passenger and posted online, prompting an angry response from the public.
It comes during an official campaign to stop foreigners illegally entering, living and working in China.
Mr Vedernikov, 45, was the orchestra's principal cellist.
He was travelling from Shenyang, in north-eastern China, to Beijing on Monday night when he became involved in the squabble.
The video of the incident - which has been viewed by millions of people in China - showed him with his bare feet up on the seat in front.
When the woman objected to his feet touching her head, he apparently responded with a barrage of sarcastic comments and insults in fluent Chinese.
Her response was to throw water bottles at him.
Chinese media have reported that the train guard told the woman to "forget it - he is an artist".
The BBC's Michael Bristow, in Beijing, says the incident has tapped into an anti-foreign sentiment in China, which is often stoked by the government.
And it comes at a time of increasing focus on foreigners in China.
In April the local authority in Beijing launched a crackdown on those without proper permission to live and work there.