Focus falls on Baghdad for Iran nuclear deal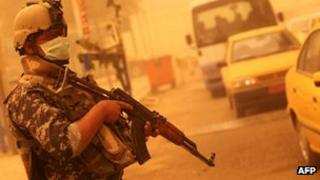 Forget the history and the security. Above all, there is the sand. In recent days, Iraq's capital has been hit by a sandstorm that makes the city look like a colony on Mars.
In the mornings, anything more than 30 metres in the distance fades into a fog of dull orange.
The airport has been closed. Many residents wear face masks.
The sand-coated capital of Iraq is an unlikely choice for a nuclear summit.
Nations dealing with extreme weather, bombings and political unrest tend not to be chosen as conference venues.
The more predictable political and ecological climates of Brussels and Geneva are more favoured.
But Iraq's neighbour - and former enemy - Iran, has asked its fellow Shia-led government to host these negotiations.
Baghdad has said yes.
The media here reports that 15,000 security forces will be deployed in Baghdad to make sure that the visiting diplomats come and go without any incident.
Outside the International Zone (formerly known as the Green Zone), Iraqi soldiers wearing balaclavas stand on the turrets of armoured jeeps.
These talks mark a strange reunion.
For eight years in the 1980s, Iran fought against Iraq.
Then in 2003, America and Britain led the invasion of Iraq. Now these countries all have their own guest passes.
US soldiers once fought their way to Baghdad because of suspicions of weapons of mass destruction.
Now US diplomats come back to the same country to talk about the same subject. This time the country in question is Iran, not Iraq.
'Red line'
At Baghdad's Karada market, a film of dust covers the tomatoes and melons on sale in a stall next to the road.
"We don't care about Iran," says Khaled, a hotel owner who is out shopping. "We care about our country. We want our country to be safe and everything."
"I'm not afraid of Iran's nuclear programme," says Qasem, who runs a tobacco stall. "It's intended for peaceful purposes, not for military purposes."
For diplomats, this is an unofficial Iran nuclear week.
On Monday, the head of the International Atomic Energy Agency, Yukiya Amano, paid his first visit to Iran.
He wanted better access for his agency's inspectors. He returned to Vienna to say that he had reached a deal with Iran's chief negotiator, Saed Jalili.
But the promise of better inspections in itself will not end the conflict with Iran.
At the heart of the decade long dispute is Iran's enrichment of uranium.
The United States insists that Iran has to freeze all uranium enrichment - even if it's just for civilian purposes.
Iran insists that a total freeze is unacceptable.
"During our time we could not reach a final compromise with the EU 3 [Germany, France, the UK] because the US was not on board and the US position was zero enrichment. Enrichment has always been the red line for Iran," says Hossein Mousavian, who was the spokesman for Iran's nuclear negotiating team from 2003 to 2005.
"I would advise Lady Ashton [the lead negotiator for P5+1 - Britain, China, France, Russia and the United States, plus Germany]: do not challenge Iran on its legitimate rights. It is impossible.
"Change the red line. Your red line would never be responded positively with Iran if the red line is enrichment. But if the red line is nuclear weapons, then you have a chance, you have a big chance."
Breakthrough or breakdown?
But any agreement in which Iran gets to keep processing low-enriched uranium in exchange for restrictions elsewhere would immediately be challenged by Israel.
Israeli Prime Minister Benjamin Netanyahu has warned that the West must not show any weakness while dealing with Iran.
Still, in private, some diplomats refuse to rule out an enrichment deal. The aim at the moment appears to be simple: keep talking.
"The minimum that guarantees success is that both sides agree to talk for a third set of talks," says Prof Scott Lucas of Birmingham University.
"As long as the two sides are talking, as long as we don't have a breakdown - to be blunt it keeps the military option off the table. It eases the temperature in the region if the talks are going on. You still will have conflict but you're unlikely to have a heated conflict."
The sandstorm of Baghdad may force the delegations here to stay inside the convention centre and negotiate.
No-one expects a breakthrough at this round of talks.
Nor do they expect a breakdown either.