China local government 'chengguan' enforcers 'abusive'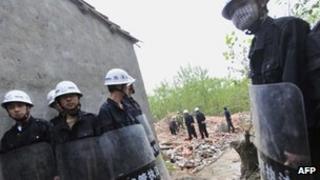 China's local government "chengguan" law enforcers are engaged in "abusive conduct" that fuels public resentment, a Human Rights Watch report says.
The report documents abuses including assaults, illegal detention and confiscation of property.
The chengguan, or Urban Management Law Enforcement force, support the police in tackling low-level crime in cities.
But the force's ''thuggish'' behaviour had led to public anger and undermined stability, said the report.
"Chengguan forces have earned a reputation for brutality and impunity," said Sophie Richardson, China director at Human Rights Watch (HRW).
"They are now synonymous for many Chinese citizens with physical violence, illegal detention and theft."
The report cited poor supervision and the lack of a national framework specifying the duties and conduct of the chengguan as factors in abuses.
The absence of a system to monitor and investigate alleged abuse had also led to ''ad hoc'' control of the force at local levels, said HRW.
'Open scandal'
Set up in 1997, the chengguan are tasked with supporting police in enforcing ''non-criminal administrative regulations'' such traffic, environment and sanitation rules.
Chengguan officers can fine violators but do not have any authority to ''detain or use excessive force'' against offenders, said HRW.
However in testimonies given to the rights group, people told of being slapped, beaten, held on the ground and thrown onto the streets from vehicles.
Some also spoke of having possessions confiscated and being made to pay for the return of their belongings.
''The chengguan's ability to flout China's laws and inflict harm on members of the public is a recipe for greater public resentment and more violent confrontations,'' Ms Richardson added.
In July 2011, the death of a disabled street vendor who was reportedly beaten by local law enforcers sparked a riot in Guizhou province.
Public anger over abusive chengguan officers is also widespread on social media. In 2010, an online game pitting street vendors against officials trying to remove them took the internet by storm.