Burma's Aung San Suu Kyi to travel to forum in Thailand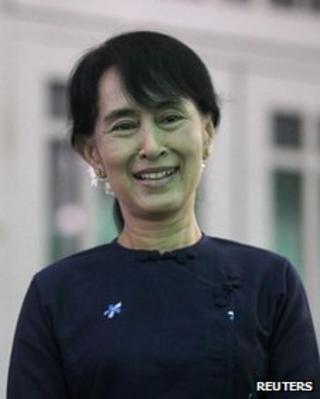 Burma's opposition leader Aung San Suu Kyi is to attend the World Economic Forum in Bangkok next week, leaving Burma for the first time in 24 years.
She will attend the summit which takes place from 30 May to 1 June, a spokesman for her National League for Democracy (NLD) party told the BBC.
Burma's President Thein Sein is also expected to attend the event.
Ms Suu Kyi has spent much of the past two decades under house arrest as a political prisoner.
But amid a process of reform in Burma she was freed in late 2010, and won a seat in parliament in by-elections last month.
Ms Suu Kyi - who stayed in Burma because she feared that if she left she would not be allowed back in - was given a passport for the first time in more than two decades earlier this month.
She also plans to travel to Europe next month, where she is scheduled to accept the Nobel Peace Prize which she won in 1991 in Oslo, Norway, on 16 June.
She has also accepted an invitation to address the British parliament on 21 June during a visit to the UK, where she lived for many years with her late husband and her sons.
Ms Suu Kyi was visiting Burma in 1988 to look after her sick mother when protests broke out and she has not left the country since then.
Her decision to travel is being seen as a sign of her confidence in the government of President Thein Sein, who brought in reforms after he came to power last year in Burma's first elections in 20 years.
She has also accepted an invitation to visit the United Nations headquarters in New York.