Burma warns power shortages protesters to 'be lawful'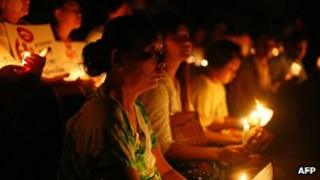 Burma's reformist military-backed government has warned people protesting against power shortages that they must stay within the law.
Presidential adviser Ko Ko Hlaing said in a news briefing that even as protests were common in a democratic country, they must be authorised and peaceful.
The rallies in several towns this week have been Burma's biggest in years.
Under new laws, public gatherings need at least several days' notice.
The demonstrations the past few days, in contravention of strict laws about public gatherings, have been the largest since an abortive uprising led by Buddhist monks five years ago.
There were reports that police questioned protesters in Pyi town, 300km (180 miles) north of Rangoon.
Kyaw Swe, one of the protesters' leaders, told news agency Agence-France Presse that police beat several people while others were taken for questioning.
'Get permission'
"It is usual in a democratic country that people express their desire by protesting. But they need to be lawful," presidential adviser Ko Ko Hlaing said in a press briefing.
"They can protest to the extent that the law permits. According to the law, if they want to protest, they need to inform the police station and get permission."
The Burmese government had appealed for public understanding regarding the chronic power shortages.
It blamed high summer energy consumption and ethnic minority rebels blowing up electricity pylons as the causes of shortage.
Only a few Burmese have access to electricity, with much of it exported to neighbouring China.