Kazakh police are jailed over Zhanaozen violence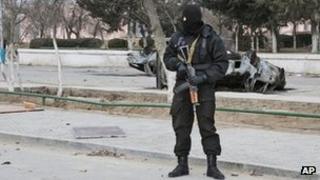 Five middle-ranking Kazakh policemen have been imprisoned over the shooting of protesters in the town of Zhanaozen last December, trial observers say.
A court in the Western city of Aktau handed down sentences of between five and seven years after finding the officers guilty of abuse of power.
At least 15 people were killed and more than 100 wounded when security forces and striking oil workers clashed.
The violence followed months of peaceful protest in the town.
Witnesses say police fired indiscriminately at unarmed workers, but security forces say they acted in self-defence.
The accused are all reported to be middle or low-ranking officers whom correspondents say are unlikely to have given the order to open fire.
Violence broke out when police tried to clear the town square ahead of celebrations marking the 20th anniversary of Kazakh independence from the Soviet Union.
The Kazakh authorities initially praised the actions of the police in the unrest, saying they had had no choice but to use armed force to restore order.
But video phone footage later emerged on the internet that appeared to show police officers shooting at and beating unarmed civilians.
The verdict in a separate trial of 39 former oil workers on charges of organising the unrest is expected next week.