Pakistan: 'Nine killed' in Karachi targeted shootings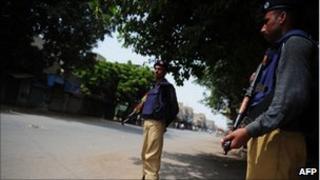 At least nine people, including a senior police officer, have been shot in targeted killings in the Pakistani city of Karachi, officials say.
Most of those killed overnight were the victims of drive-by shootings.
Police Superintendent Shah Mohammad was attacked by armed bikers in Karachi's eastern Korangi area.
Karachi has long suffered outbreaks of violence, blamed on criminal elements, as well as turf wars between rival political and ethnic groups.
Hundreds of people have been killed in Karachi - in southern Sindh province - since January 2012.
At least 800 people died in politically motivated attacks in the city last year.
Police suggested that Shah Mohammad might have been targeted because of his role in security crackdowns on political parties.