Five Bangladesh 'robbers' killed by angry fishermen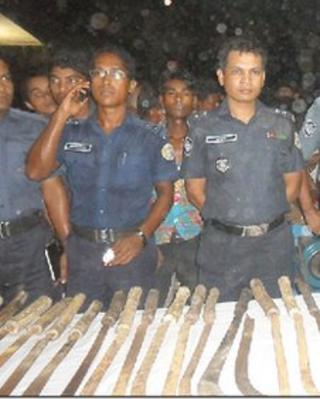 At least five suspected robbers have been beaten to death in Bangladesh by a group of fishermen angered over repeated looting of their catches, police say.
The men killed were caught by fishermen as they were fleeing a gun fight with security forces, police say.
The incident happened on Tuesday night in the southern district of Bhola.
Rights groups say that at least 55 people have been killed by angry mobs in various lynchings this year.
Those targeted are all suspected pirates, robbers or other criminals.
"As we engaged the robbers, they retreated deep inside a forest. But after hearing gun shots, local fishermen rushed to the area in more than 100 boats and caught them," Bhola district senior police official Bashir Ahmed told the BBC.
"By the time we reached the spot, five were beaten to death. So far, we have arrested three of the suspected robbers."
Police say they have charged some villagers with the killings - but no arrests have been made so far.
The BBC's Anbarasan Ethirajan in Dhaka says that those killed are thought to be members of the Kalam Bhahini group, which is blamed for a number of lootings, abductions and robberies in the area.
Activists argue that the incident highlights the dangers of people taking the law into their own hands in Bangladesh, where the public are losing faith in the criminal justice system and in the law enforcement agencies.