Rapturous welcome for Aung San Suu Kyi's historic trip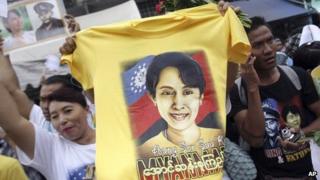 Thousands of Burmese migrants perched on rooftops and hung from windows, waiting for a glimpse of pro-democracy leader Aung San Suu Kyi.
Many of them who packed a narrow street of Mahachai, an area about 20 miles (30km) south of the Thai capital Bangkok, had taken a day off from working in the fish processing factories that the area is famous for.
"I came here to just to see her," said Tin Lwin Oo, who works nearby.
"We haven't seen her before that's why I had to be here. We are so proud of her."
Mahachai's large population of Burmese migrant workers were in for a treat.
After spending her first night outside Burma in 24 years, there was no chance that Burma's opposition leader would feel homesick.
In fact, she commented that on first impression, it looked like she was still in Rangoon.
Desire for home
It could have been an election rally. Pro-democracy songs were chanted.
Some of her supporters waved flags or posters bearing the messages like "Free Burma" and "We want to go home". Others wore t-shirts bearing Ms Suu Kyi's iconic image.
"Don't feel down, or weak. History is always changing," she told the crowds. "Today, I will make you one promise: I will try my best for you."
Inside a community centre, as the crowd throbbed outside, a few carefully selected migrant workers were given a few precious minutes with the Nobel peace prize winner.
Burmese workers are among the worst paid and most exploited in Thailand, and as they listed their complaints, Ms Suu Kyi told them that they must learn and exercise their legal rights.
"All of them say one thing, they want to go back to Burma as soon as possible," she told journalists.
"That is part of our responsibility - we have a responsibility to create a country that all our people can return to whenever they wish to."
An estimated 130,000 Burmese refugees live in camps in Thailand, having fled persecution at home.
Many more work in Thailand both legally and illegally, mostly in construction, factories or the fishing industry.
Heady optimism
The crowd outside was gripped with a mix of heady optimism laced with a sense of reality. It will inevitably take time for political and economic reforms to translate into jobs.
"If Aung San Suu Kyi becomes leader of the country, we don't have to come and work here," said Yan Naing, who earns his living cleaning fish in the local market.
What Yan Naing wishes for would not be happening for three years at the very earliest.
For that to take place, Aung San Suu Kyi's party will have to push through changes in the constitution. At present, 25% percent of the seats in Burma's parliament are reserved for the army.
For now, the simple economics mean that Thailand, one of South-east Asia's economic hubs, remains an attractive place to look for work.
Khaing Kyaw Htoo earns 300 baht ($8/£5) a day working in a tuna processing plant. It is a poorly paid job, even by Thailand's standards, but he earns considerably more compared to what he can back home.
"Every time we went back to Burma we very quickly wanted to come back here again," said Mr Khaing. "The money is so much better here."
The main event of this historic trip will be on Friday when Ms Suu Kyi speaks at a high-powered economic summit.
By coming to Mahachai and speaking to Burmese migrants first, Ms Suu Kyi has delivered a clear message as to where her priorities still lie.