Supreme Court judge shot dead in Nepal capital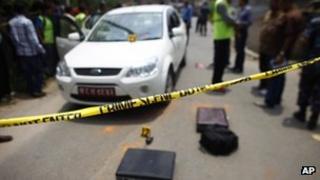 A Nepalese Supreme Court judge under investigation for corruption has been shot dead in the capital, Kathmandu.
Gunmen on a motorcycle opened fire on Rana Bahadur Bam and his bodyguard while he was being driven to work during morning rush hour, police said.
Mr Bam, 64, died in hospital. His bodyguard sustained serious injuries.
Mr Bam had been under investigation for allegedly accepting bribes from criminals in return for giving them lighter sentences, reports say.
The judge had just left the Bagalamukhi temple in the city centre when he was shot at 11:08 (05:23 GMT), police spokesman Rabi Raj Shrestha told AFP news agency.
He was brought to Norvick Hospital, where he died.
"He succumbed to multiple bullet wounds," Mr Shrestha told AFP. "We will interrogate the [judge's] driver to find out more."
The incident happened just a few days after Nepal's Constituent Assembly was disbanded after it failed to agree on a new constitution.
The assembly had also been hearing the case for the judge's impeachment.
The country is currently run by a caretaker government.