China urges Pakistan to expel Uighur Islamic militants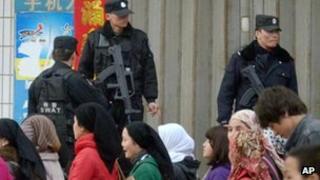 China has asked Pakistan to do more to end the presence of ethnic Uighur Islamic militants in its tribal areas, Pakistani officials say.
They say that Chinese Foreign Minister Yang Jiechi raised the issue with Pakistani President Asif Ali Zardari during his recent visit to Islamabad.
The militants are members of the East Turkestan Islamic Movement (Etim).
They have run sanctuaries and training facilities in the Afghanistan-Pakistan region since the mid-1990s.
The militants say they are fighting to liberate China's Muslim-majority Xinjiang province, on the border with Pakistan, from Chinese occupation.
China says that such groups - with links to al-Qaeda - are responsible for unrest in Xinjiang, home to its Muslim Uighur minority.
Chinese authorities have previously voiced concerns over the presence of the Etim militants in Pakistani tribal areas, who they say are being trained there and then cross into Xinjiang to carry out militant attacks.
But they have desisted from discussing the issue publicly to save embarrassment to Pakistan.
In April, the Chinese government posted profiles of six Uighur suspects on its website, saying they were operating in South Asia, without naming Pakistan.
A senior Pakistani interior ministry official told the BBC that Mr Jiechi broached the subject in his meeting with President Zardari on 29 May.
He said the foreign minister stressed the growing concerns of the Chinese authorities about the presence of Etim militants on Pakistani territory, and discussed ways in which China could help Pakistan to evict them.
The official said Pakistani intelligence services had been regularly sharing information about the Etim with their Chinese counterparts.
Last year, Pakistan handed over to China a handful of Uighur militants who were captured by the security forces in the tribal areas, he said.
Etim militants are among hundreds of Islamist fighters from all over the Central Asian region who are said to be hiding in the Pakistan-Afghanistan border region.
At least two top-ranking Etim leaders have been killed in the region over the last decade - one in a Pakistani military raid in 2003 and the other in a drone strike in 2010.
Muslim Uighurs make up about 45% of the population of Xinjiang. Some say waves of Han Chinese immigration and heavy-handed government policies have marginalised their culture and traditions.