US urges China to free Tiananmen Square activists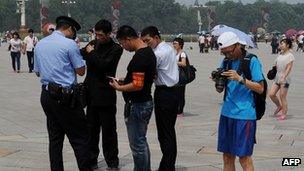 The US government has urged China to free all those still in prison 23 years after Beijing's 1989 crackdown against protesters in Tiananmen Square.
The US state department message also called on China to "provide a full public accounting of those killed, detained or missing".
Beijing considers the June 1989 events a counter-revolutionary revolt and defend their response.
In 1989 the army shot dead hundreds of civilians rallying for democracy.
"We renew our call for China to protect the universal human rights of all its citizens; release those who have been wrongfully detained, prosecuted, incarcerated, forcibly disappeared, or placed under house arrest; and end the ongoing harassment of human rights activists and their families," US state department deputy spokesman Mark Toner said.
He called China's "violent suppression" of the Tiananmen Square demonstrations a "tragic loss of innocent lives".
The authorities have made any discussion of the 1989 unrest taboo.
About 20 human rights activists were beaten up by police in the southeast province of Fujian on the 23rd anniversary of the Tiananmen crackdown, AFP news agency reported, quoting Shi Liping, the wife of activist Lin Bingxing. The allegation was denied by Fujian police.
A human rights group, the Dui Hua Foundation, estimates that fewer than a dozen activists arrested in the 1989 Tiananmen crackdown remain in jail. Hundreds were rounded up at the time.
Those left in jail are not students who led the protests but people who committed arson or attacked martial law troops, Dui Hua executive director John Kamm told the Associated Press.