Singapore tightens rules on maids cleaning high windows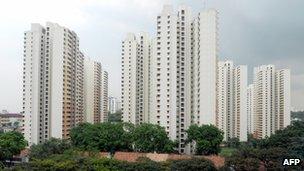 Singapore has tightened rules which determine how maids clean windows in high-rise flats following an increase in work-related deaths this year.
Maids are to be supervised while cleaning the outside of windows, the Ministry of Manpower said on Monday.
Nine maids have died as a result of "cleaning windows in an unsafe manner" this year compared to four last year, it said.
The maids were all from Indonesia, reports say.
"This tragic and unnecessary loss of lives could have been prevented" if maids and their employers "took safe work practices seriously", the ministry said in a statement.
It added that effective immediately, maids would not be allowed "to clean the exterior of windows unless strict safety conditions are in place".
Part of the safety precautions include employer supervision while the maids clean windows, with window grilles "installed and locked at all times during the cleaning process".
The ministry stated that many maids "do not come from high-rise environments and may not be used to the urban living environment in Singapore", and are "likely to be unaware of the risks".
Most of Singapore's 5.2-million population live in high-rise flats. Aside from Indonesia, most of the estimated 20,000 maids come from the Philippines and India.
Related Internet Links
The BBC is not responsible for the content of external sites.