Leon Panetta calls for closer defence ties with India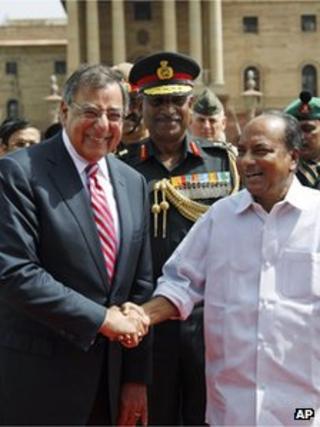 India and the US should deepen their defence co-operation to provide more stability in the Asian region, US defence secretary Leon Panetta said.
He said India must also overcome its differences with Pakistan to bolster peace and security in South Asia.
Mr Panetta met Prime Minister Manmohan Singh and Defence Minister AK Antony during his two-day visit to India.
Correspondents say the tour is an attempt to shore up American power in the face of growing Chinese influence.
The US describes India as a key ally in the region and the issue of regional stability and the security situation in Afghanistan after the withdrawal of Nato-led troops there have figured prominently on Mr Panetta's agenda during his first India visit.
"We need to deepen our defence and security co-operation, and this is why I have come to India," Mr Panetta said during a policy speech at the Institute for Defence Studies and Analyses in the Indian capital, Delhi.
"We are developing a new defence strategy for the 21st century. A central feature of this strategy is rebalancing towards the Asia-Pacific region.
"In particular, we will expand our military partnerships and our presence in the arc extending Western Pacific and East Asia into the Indian Ocean region and South Asia. Defence cooperation with India is the lynchpin of this strategy."
India has also agreed to allow a US team to visit the north-east to search for the remains of US troops killed in air crashes over India during World War II, Mr Panetta said.
In his talks with PM Manmohan Singh on Tuesday, Mr Panetta "underscored the link India plays between East and West Asia and how the United States views India as a net provider of security from the Indian Ocean to Afghanistan and beyond", US officials said.
Last November, President Barack Obama announced that the Asia-Pacific region was a "top priority" for US security policy.
His comments were seen as a challenge to China, which is striving to be the main regional power.