Australia defence chief 'avoids cyber spies' in China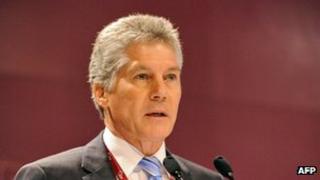 The Australian defence minister has taken extra precautions against possible cyber-espionage in China, Australian media say.
Defence Minister Stephen Smith left his laptop and mobile phone in Hong Kong on Wednesday before leaving for Beijing, newspapers have reported.
Australian officials say being security-conscious was standard routine for travelling diplomats.
Mr Smith is in talks with his Chinese counterpart Liang Guanglie.
It was reported that Mr Smith's computer and that of other Australian officials was hacked in March. The attacks were alleged to have originated from China, but China has dismissed the allegations.
Officials downplayed the latest developments, with Mr Smith telling reporters in Beijing that such measures "should not come as a surprise".
"We place great score on the confidentiality of ministerial communications," he said.
"Whether they're private or government institutions, people need to be aware of the security of their communications, and the risk of cyber-attack is real and people have to take the necessary precautions."
The Australian defence ministry issued the precaution on cyber spying, according to The Sydney Morning Herald , and the minister and his staff were given phones with different numbers.
These precautions are only taken for Australian ministerial visits to China, the paper added.
Australia and China are major trade partners.