Top Pakistan judge removes himself from son's case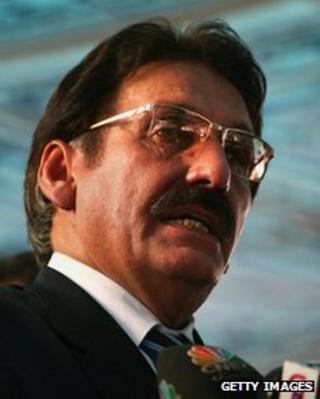 Pakistan's Chief Justice, Iftikhar Chaudhry, has excluded himself from the bench which is hearing allegations of corruption against his son, Arsalan.
The chief justice initiated the case as a response to accusations that his son accepted millions of dollars in bribes.
But Pakistan's attorney general objected to the inclusion of Mr Chaudhry on the bench.
Arsalan Chaudhry has denied any wrongdoing.
Correspondents say the chief justice's presence on the bench hearing the case of his son raised many eyebrows in the country.
Former president of the lawyers association and a senior member of lawyers community, Asma Jehangir, issued a statement saying Justice Iftikhar should have not hear his own son's case.
Arsalan Iftikhar is alleged by Pakistani media to have taken money from a property tycoon who hoped to influence a Supreme Court ruling - he denies the charge.
The BBC's South Asia analyst Jill McGivering says that the chief justice is an outspoken and high-profile figure who portrays himself as an honest broker in Pakistan, where corruption in public life is seen as endemic.
His battle to prove his independence put him at loggerheads in the past with former President Pervez Musharraf.
Protests by the chief justice's supporters played a significant role in ousting President Musharraf from office.
His determination to bring his son's accusers to court - and his promise to deliver justice if his son is found guilty of corruption - may be seen as an attempt to protect his reputation, our correspondent says.