Australia to lift Burma sanctions and double aid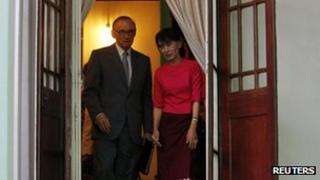 Australia will lift its remaining travel and financial sanctions against Burma, says Foreign Minister Bob Carr.
He also pledged to double aid to the South East Asian nation to A$100m ($98.5m, £63.6m) a year by 2015.
These announcements came after Mr Carr's visit to Burma on Thursday, where he met President Thein Sein and opposition leader Aung San Suu Kyi.
Australia is Burma's second largest bilateral aid donor. An arms embargo against it will remain in place.
In April, Australia eased travel and financial restrictions on about 260 Burmese nationals, including President Thein Sein.
''In meetings over the past two days, I've gained a first-hand appreciation of the reform effort under way,'' Mr Carr said in a statement.
''The point has been reached where lifting sanctions is the best way to promote further progress.''
The lifting of the sanctions would be implemented ''in the coming weeks'' but Australia would reinstate them if the need arose, the statement added.
Foreign aid
Australia will also support Burma in economic and social development, Mr Carr said in a separate statement.
Foreign aid to the country will increase by 30% to A$63.8m next year - this will help provide access to education and health care for the people of Burma.
Australia has joined the European Union and the United States in taking gradual steps to ease sanctions on Burma
The various moves on sanctions come amid a process of reform in Burma that began with the election of a military-backed nominally civilian government in November 2010 that ended decades of military rule.
In April, the EU formally agreed to suspend most sanctions against Burma for a year but retain its arms embargo.
Last month, the US relaxed restrictions on investments and named Derek Mitchell, the State Department's coordinator for Burma policy, as the first ambassador to the country in 22 years.