Pakistan blast: Quetta religious school toll rises to 15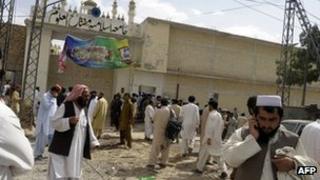 The death toll from a bomb attack in the Pakistani city of Quetta rose to 15 on Friday, after some of those injured died in hospital, police said.
At least eight people, including children, died at the scene of the blast outside a religious school.
But many others were critically injured after the bomb strapped to a bicycle outside the school was detonated.
No group has claimed the attack, but the Taliban as well as separatist militants are active in the region.
Quetta is the capital of the south-western province of Balochistan, where a separatist insurgency is being waged by ethnic Baloch militants demanding more autonomy and a greater share of natural resources.
Afghan and Western officials have in the past said parts of the Taliban leadership are based in Quetta - a claim Pakistan denies.
"Seven more critically injured died in hospitals overnight. A total of 30 people, including students, were wounded in the blast," a local police official told the AFP news agency.
The bomb was remotely detonated outside the school as a degree ceremony for students was being held inside, police said.
Hundreds of students were gathered in the Jamia Islamia Maftah-ul-Uloom madrassa in the Sariab area of Quetta when the bomb went off.