Australian killer Ivan Milat's kin jailed for murder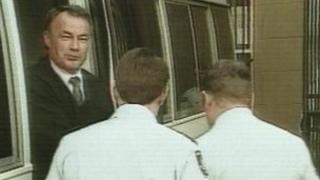 A relative of a notorious Australian serial killer has been sentenced to at least 30 years in prison for murdering a friend with a double-edged axe.
Matthew Milat, 19, killed and buried David Auchterlonie, 17, in a forest in New South Wales in 2010.
This was the same area where his great-uncle Ivan Milat dumped the bodies of seven young backpackers in the 1990s.
An accomplice, Cohen Klein, was jailed for at least 22 years for the murder.
Mr Auchterlonie was tortured and taunted before he was struck on the head with an axe in the Belanglo State Forest, south-west of Sydney. His murder was recorded by Klein on a mobile phone.
"I'm glad he got as long as he did," Mr Auchterlonie's mother, Donna Locke, told reporters.
"It will never ever be truly enough because David is gone, and he can be released in time and go and live some of his life. But I'm just glad that he didn't get any less."
Milat's prison sentence is for a maximum of 43 years, while Klein's is for a maximum of 32 years.
The judge described the crime as a "thrill kill".
The prosecution said there was no motive for the killing, and that Milat got an adrenaline rush from seeing someone being murdered.
They also claimed that Milat gloated over the murder, telling friends, "That's what the Milats do." That was taken to be a reference to his great-uncle, Ivan Milat, according to the BBC's Duncan Kennedy, in Sydney.
Ivan Milat was sentenced to life in prison in 1996 for each of the seven counts of murder.