Ex-Thai banker Rakesh Saxena jailed for 10 years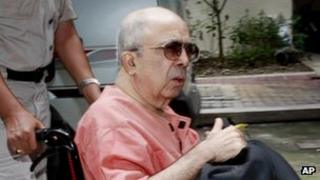 A court in Thailand has jailed a former banker for 10 years on corruption charges.
The court found Indian-born Rakesh Saxena guilty of fraud of up to $80m (£51m).
Saxena advised the Bangkok Bank of Commerce until 1996 when he embezzled massive amounts, contributing to the collapse of the bank.
The banking crisis emanating from this collapse led to financial troubles across Asia.
Saxena, 59, was arrested in Vancouver, Canada, three years ago, where he was living as a fugitive.
After losing a legal battle in Canada against his proposed extradition, he was forced to go to Thailand where he faced trial.
During the trial, the Bangkok South Criminal Court heard how Saxena had set up 60 businesses in Thailand.
He used these businesses to secure loans from the bank to cover debts and running costs. He also channelled the money into his personal accounts, mostly in Switzerland.