North Korea: No plan for nuclear test 'at present'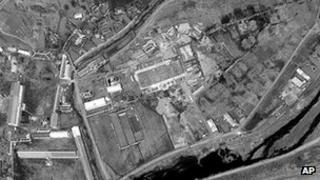 North Korea says it has no plans to conduct a third nuclear test "at present", but has hit out at what it says is provocation from South Korea.
Seoul was trying to "rattle the nerves of the DPRK in a bid to cause it to conduct a nuclear test" a foreign ministry spokesman said.
The remarks were carried by Pyongyang's official news agency, KCNA.
They come weeks after satellite images suggested a "major upgrade" under way at North Korea's rocket launch site.
Work at the Musudan-ri site showed "rapid progress" since mid-2011, analysis by a US institute suggested.
There has been speculation that the North will conduct a third nuclear test, after the UN Security Council tightened sanctions on Pyongyang in the wake of the North's failed rocket launch in April.
The North responded with atomic tests in 2006 and 2009 after UN imposed sanctions against its rocket launches.
The US has warned that a nuclear test would lead to a "swift and sure response" from the region, saying any such move by Pyongyang would be "a serious miscalculation".
Pyongyang's missile and nuclear ambitions have faced increased scrutiny in recent months, following the death of Kim Jong-il last December and installation of his son Kim Jong-un as leader.