Has Australia become a smuggler's paradise?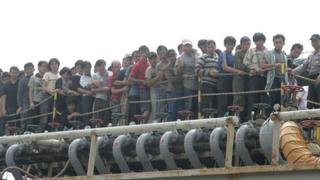 It is the stuff of gripping fiction - or high farce - where an alleged people-trafficking kingpin from Iraq poses as a refugee and runs his illicit business within a few kilometres of Australia's intelligence agencies' headquarters.
The Australian Broadcasting Corp made the allegations against Captain Emad.
The news network accused him of captaining a boatload of unauthorised arrivals from Indonesia and impersonating an asylum seeker when the vessel was intercepted by the authorities in 2010.
Criticism was heaped onto the country's police and spy services: how could an alleged criminal mastermind pass security checks and be allowed to run a people-smuggling operation from his home in Canberra?
Immigration Minister Chris Bowen ordered an immediate investigation, declaring he had "no tolerance at all for people gaining refugee status based on false information".
Captain flees
But a day after the ABC exposé, called Smugglers' Paradise - Australia, was aired, Captain Emad, also known as Abu Khalid, had fled the country and his whereabouts were unknown.
Senior police officers said they had Captain Emad and members of his alleged syndicate under surveillance, but did not have enough evidence to charge him.
"When leaving Australia, the man triggered a long-standing alert at Melbourne Airport and at the time, there was an operational decision made by investigators that he could not be detained, as the officers had no lawful basis to prevent him from departing Australia," said federal police commissioner Tony Negus.
In Canberra, the conservative opposition tore into the Labor government, claiming that budget cuts have hamstrung the police and that a prized catch was allowed to disappear overseas.
However, lawyers concede that it is difficult for investigators to make charges stick against accused high-ranking traffickers.
Most cases are based on eye-witness testimony of asylum seekers who pay thousands of dollars to travel to Australia by boat, mostly from Indonesia.
It is a view shared by Home Affairs Minister Jason Clare, who said: "Unfortunately, there is a difference between compiling information for a television programme and compiling information for court."
'Head of the snake'
This embarrassing affair has caused a stir between Australia and its giant neighbour to the north, Indonesia.
Both countries have vowed to stem a steady flow of asylum boats in recent years, but Tantowi Yahya, a member of Indonesia's parliamentary committee on foreign affairs, said the Captain Emad revelations undermined Canberra's claim to be fighting the smuggling trade.
"We agree with the request from Australian government to be co-operative with them, but then we get the news that the Australian government is giving refugee status to the smugglers," said Mr Yahya.
The ABC's Four Corners TV show team had documented "how the biggest people-smuggling networks in Indonesia have moved their operations to Australia".
An Iraqi refugee, Hussain Nasir, claimed that "many, many smugglers or agents, they enter Australia, and now they live in Australia". His credibility has, however, been questioned by The Australian newspaper, which said he was "unreliable". The ABC responded by insisting that the attack on a "brave whistleblower" was "disgraceful".
Emad was described as the "head of the smugglers, the head of the snake", by an informant who linked him to a powerful Indonesian ring behind two ill-fated boats that sank en route to Australia, killing almost 150 people.
Even though one alleged kingpin has fled, Commissioner Negus says his officers will continue to pursue others.
"The AFP [Australian Federal Police] currently has over a dozen active investigations into people-smuggling ventures being organised from Australia," he said.
"We have over 100 investigators working with our partners in this area, both here in Australia and offshore."
'Hounded out'
Questions remain about whether Emad's refugee protection visa will be revoked by the Australian government.
Human rights campaigners believe that he has been unfairly hounded out of Australia by "unsubstantiated allegations".
"I was extremely disappointed with the ABC story," explained Ian Rintoul from the refugee rights group Refugee Action Coalition.
"It is very common for people who organise boats in Indonesia to be refugees. The majority of people who have been convicted of smuggling have been found to be genuine refugees," he said.
When confronted by the ABC at a supermarket car park in Canberra, Emad had denied any wrongdoing.
"I don't know what you're talking about," he insisted.
The following day, he had left the country.