Bike bomb kills six in Pakistan's Balochistan province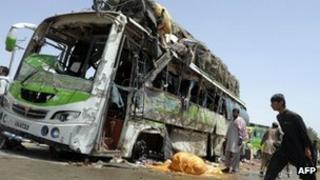 A bomb planted on a motorbike has killed six bus passengers and injured 40 others in the restive Pakistani province of Balochistan, officials say.
The apparent target of the attack was an Iran-bound bus carrying Shia pilgrims. But it went off several minutes too late, correspondents say.
The bomb instead hit the wrong target and struck a local passenger bus on the main highway to Iran.
Shia pilgrims have been targeted in this area before.
The latest attack took place near the town of Dreengar in Mastung district, about 40km (25 miles) south of the provincial capital, Quetta.
Officials say that a timed device was attached to the motorbike and went off when the passenger bus was passing by.
Several women and children are among the injured.
The dead and seriously injured were moved to Quetta, the provincial capital of the south-western province.
The bus hit by the bomb was heading from Quetta to the town of Nushki near the Iranian border.
The BBC's Ayub Tareen in Quetta says that the highway is a commonly used route for Shia pilgrims visiting Iran's holy places.
Shia pilgrims have regularly come under attack in recent months in Pakistan.
Thirteen of them were killed in October by a group of gunmen who opened fire on their bus in the same area in Balochistan.
Since then the government has provided paramilitary escorts for Shia pilgrims going to Iran in coaches.
The banned Sunni militant organisation Lashkar-e-Jhangvi has claimed responsibility for many attacks against Shias.