Three killed and several missing in Afghan earthquakes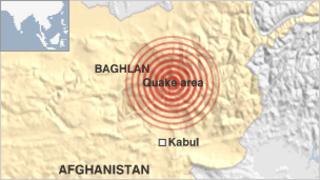 Three people have been killed in village house collapses after two earthquakes hit the north-east of Afghanistan, officials say.
The quakes struck the remote Borka district of Baghlan province on Monday morning, destroying or burying at least 20 village houses.
Several people are feared to have been trapped under their collapsed houses.
Rescue workers have reached the scene and transported eight injured persons to a medical facility near the village.
Provincial disaster management head Naser Kohzad told the BBC that all of the province had been hit by the quake, but five districts in particular were especially badly hit.
Tribal elders in the Hazar Saya area of Borka district told the BBC's Bilal Sarwary in Kabul that several people are still missing, including women and children.
The houses were destroyed when part of a mountain in the Hindu Kush range fell into a valley.
The first quake had a magnitude of 5.4 and a second of about the same strength hit the same area minutes later.
The tremors could be felt in the capital, Kabul, 170km (105 miles) away.
"This is a human tragedy," a local security official in Baghlan told the BBC. "The mountain was big and the houses were made out of mud, so you can imagine the devastating impact.''
Baghlan's provincial council member Haji Mohammad Wakil said that the village is in the extremely remote Saya Zara area, which is why it took rescue teams longer to reach the scene of the disaster.
He said that people are feared missing because some houses are buried beneath earth and rocks.