Why is there communal violence in Myanmar?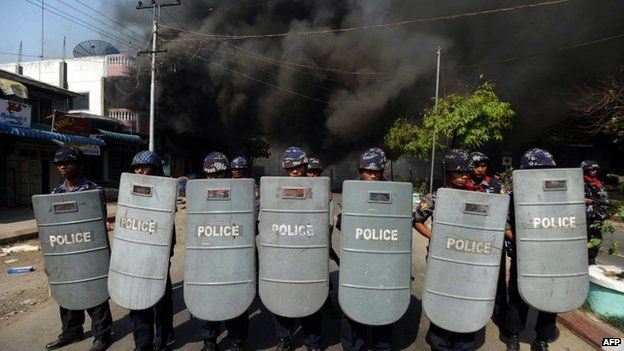 Religious and ethnic tensions have bubbled to the surface in Myanmar, also known as Burma, with deadly consequences.
In 2012, waves of deadly violence engulfed parts of the western Rakhine state.
Since then deadly incidents in central Myanmar and most recently Mandalay show how the violence has spread.
What is the nature of Myanmar's communal violence?
Over the last two years accusations of sexual assault and local disputes have created a flashpoint for violence that has quickly escalated into widespread communal clashes.
The first and most deadly incident began in June 2012 when widespread rioting and clashes between Rakhine Buddhists and Muslims, largely thought to be Rohingya Muslims, left 200 dead and displaced thousands. It was the rape and murder of a young Buddhist woman which sparked off that deadly chain of events
In March 2013 an argument in a gold shop in Meiktila in central Myanmar led to violence between Buddhists and Muslims which left more than 40 people dead and entire neighbourhoods razed
In August 2013 rioters burnt Muslim-owned houses and shops in the central town of Kanbalu after police refused to hand over a Muslim man accused of raping a Buddhist woman
In January 2014, the UN said that more than 40 Rohingya men, women and children were killed in Rakhine state in violence that flared after accusations that Rohingyas killed a Rakhine policeman.
In June 2014, two people were killed and five hurt in Mandalay, Myanmar's second city, following a rumour that spread on social media that a Buddhist woman had been raped by one or more Muslim men
How have the authorities handled the unrest?
The authorities have been criticised for failing to act swiftly and assertively enough.
They have resorted to declaring states of emergency and night-time curfews in some instances but they have been unable to prevent incidents from breaking out in the first place.
In April 2013, Human Rights Watch said that although state forces did intervene to protect fleeing Muslims, more often they fuelled unrest either by standing by or taking part in violence.
The government rejected these allegations and insists critics do not understand the situation on the ground.
There have been some limited judicial consequences with at least 10 Muslims and 20 Buddhists sentenced for their role in the Meiktila violence in 2013.
The government has yet to present any long-term proposals to resolve the conflicts.
Are the outbreaks of violence linked?
Myanmar has a long history of communal mistrust, which was allowed to simmer, and was at times exploited, under military rule.
While there are not thought to be direct links between the various outbreaks of communal unrest, the mistrust felt for decades is out in the open now in the new climate of freedom.
Observers say the government is not doing enough to head the violence off and because of this, further conflict is a risk.
What is the religious angle to the violence?
In Rakhine state, there have been particularly bitter tensions between the Rakhine people, who are Buddhist and make up the majority of the state's population, and Muslims.
Most of these Muslims identify themselves as Rohingya, a group that originated in part of Bengal, now called Bangladesh.
In the towns bordering Bangladesh, where several clashes have taken place, the majority of the population is Muslim.
Overseas-based Rohingya rights groups have said that Rohingyas bore the brunt of the violence. Rakhine Buddhists said Rohingyas were mainly to blame.
In central Myanmar the violence is not thought to involve Rohingya Muslims. Instead members of Myanmar's other Muslim communities have been affected.
It was also unclear whether the Muslims involved in the June 2014 clashes were Rohingyas.
The United Nations describes Rohingya as a religious and linguistic minority from western Myanmar. It says the Rohingya are one of the most persecuted minorities in the world.
But even the origins of the word Rohingya, and how they came to be in Myanmar, are controversial with some historians saying the group dates back centuries and others saying it only emerged as a campaigning force last century.
The Burmese government says they are relatively recent migrants from the Indian sub-continent. As a result, the country's constitution does not include them among indigenous groups qualifying for citizenship.
Historically, the Rakhine majority has resented the presence of Rohingyas, who they view as Muslim people from another country. There is widespread public hostility towards the Rohingya in Myanmar.
The Rohingya, on the other hand, feel they are part of Myanmar and claim persecution by the state. Neighbouring Bangladesh already hosts several hundred thousand refugees from Myanmar and says it cannot take any more.
What kind of threat does this pose for the Burmese state?
These troubles are being seen as a key test for Myanmar, which saw a nominally civilian government elected in 2010 after decades of oppressive military rule.
The clashes have raised concerns about the fragility of Myanmar's democracy.
Myanmar needs to be seen as a stable state, but it is always going to have to contend with the fact that it is one of Asia's most ethnically diverse countries and people are watching to see how the government handles tensions between its many communities.