Bangladesh police foil effort to to smuggle tiger cubs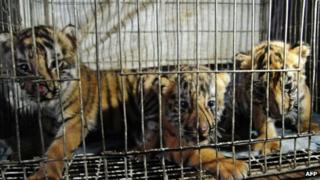 Three rare Royal Bengal tiger cubs have been rescued from a smuggler in the Shyamoli area of the Bangladeshi capital Dhaka, police say.
Officers from the Rapid Action Battalion say that they arrested a person in possession of the cubs who was attempting to take them abroad.
It is thought that the cubs were captured from the south-western Sundarbans mangrove forests.
Police suspect they were going to be smuggled to Malaysia.
The cubs are said to be three months old.
A Rapid Action Battalion (RAB) team raided the building in Shyamoli Road after receiving a tip-off on Monday.
Police say the man arrested with the cubs could lead them to an organised gang responsible for smuggling cubs out of Bangladesh.
Last year a special force was set up to save the Royal Bengal tiger and other animals.
The 300-member force is deployed mostly around the Sundarbans, one of the last refuges of the tigers.
The decision came months after the authorities recovered three tiger skins and a large quantity of bones, the biggest haul of illegal tiger parts in decades.
The Sundarbans forests stretch between Bangladesh and India.
Around 400 tigers are thought still to live in the area.