Pakistan court summons 'memogate' envoy Husain Haqqani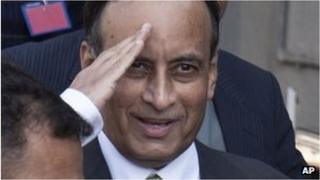 Pakistan's former US ambassador Husain Haqqani faces possible treason charges after a Supreme Court inquiry found he sought US help in the event of a coup.
It had been "incontrovertibly established" that a memo to the US military was authentic and written by Mr Haqqani, the inquiry report said.
The Supreme Court has ordered the former envoy, who is in the US, to appear before it later this month.
Mr Haqqani, a close aide to President Asif Zardari, denies writing the memo.
The findings of the inquiry commission, consisting of three senior judges, were submitted to the Supreme Court on Tuesday.
Their report accused Mr Haqqani of drawing a salary from the national exchequer but said "his loyalties were not with Pakistan".
Mr Haqqani has vowed to clear his name.
"The one-sided proceedings of the commission that refused to hear me will be challenged by my lawyers," he said in a tweet posted on Tuesday.
After recording his initial statement before the commission in Islamabad, Mr Haqqani moved back to the US and is now refusing to return to Pakistan.
'Politically motivated'
Mr Haqqani was forced to resign from his post in Washington under pressure from the army when the memo was made public last autumn.
A US businessman of Pakistani origin, Mansoor Ijaz accused Mr Haqqani of writing the unsigned letter.
The note allegedly was sent from Pakistan's political leadership to US Adm Mike Mullen - who at the time was Chairman of the Joints Chiefs of Staff - via the former ambassador.
The admiral said at the time that he read the memo but did not act on it.
President Asif Ali Zardari's aides deny any links with the document.
In November Foreign Minister Hina Rabbani Khar admitted the controversy had provoked questions about the authority of the civilian government, and created the impression that the army was pulling the levers of power.
Pakistan's civilian leaders were allegedly worried that the army was about to launch a coup after US forces killed Osama Bin Laden in Abbottabad in May 2011.
Soon after the unsigned memo was made public, Hussain Haqqani was summoned back to Pakistan and made to resign.
The opposition Pakistan Muslim League (PML) party filed an application to the Supreme Court to investigate the matter.
The court then set up the inquiry - ordering it to record statements and submit its report to the country's top court for further action.
The government had opposed setting up an inquiry, which it said was unnecessary and politically motivated.