China denies North Korea missile transporter export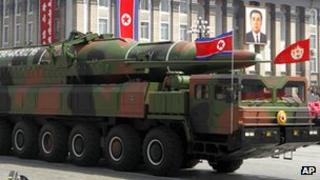 China has denied allegations that a Chinese firm shipped missile transportation vehicles to North Korea.
Japanese media said evidence pointing to a deal between the two nations had been found on board a ship which had been been searched in Osaka in 2011.
Reports said records of a shipment of vehicles capable of transporting and launching ballistic missiles were on the Cambodian-registered vessel.
China's foreign ministry said no Chinese companies had been involved.
It added that no rules had been broken by China, with regard to UN resolutions on the export of banned goods and weapons to North Korea.
Missile launchers said to bear a striking resemblance to Chinese models were displayed during a parade in North Korea in April 2012.
Shortly afterwards IHS Jane's Defence Weekly reported that China may have sold the design or made the missile launch transporter seen at the Pyongyang parade.
Japan's Asahi Shimbun newspaper said the government had obtained the evidence in October, but had delayed releasing it for fear of embarrassing China.
Evidence had been passed on to the United States and South Korea, according to media reports, which added that Washington had requested the delay in its general release.
Japan's Chief Cabinet Secretary Osamu Fujimura said that Japan had been paying "close attention" to the matter but refrained from making detailed comment, Kyodo news agency reports.
The vehicles are believed to have been shipped to North Korea in August 2011.