Australia armed forces 'abuses' shock PM Julia Gillard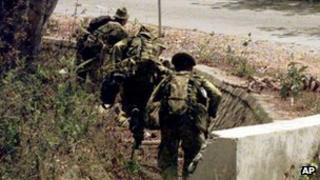 Australian Prime Minister Julia Gillard has expressed shock at a report detailing decades of sexual and other abuses in the country's armed forces.
Hundreds of documented cases of abuse against boys as young as 13 have come to light in a report commissioned by the country's defence ministry.
Ms Gillard said she was now considering setting up a Royal Commission into the allegations which go back to the 1950s.
The alleged abuses may have continued until the 1980s.
The BBC's Duncan Kennedy in Sydney says there are nearly 850 cases of abuse in the military that have been recorded in the report.
Boys as young as 13 were subjected to sexual and physical abuse in the days when they could join the military much younger than now.
Details of the abuses have been obtained by the Australian Broadcasting Corporation under a freedom of information request.
Ms Gillard said the report made "truly disturbing reading" and that the allegations were "deeply distressing".
"We now have to work out what's the best way of dealing with all of this given how far back in time many of these claims go," she said.
"A Royal Commission for this matter or at least for some of the more serious allegations is one option."
The report suggested paedophiles in the past joined the military to gain access to young people in the same way they sought out positions in orphanages, schools and churches.
"It is certain that many boys were subjected to serious sexual and physical assault and other serious abuse... from the 1950s through to the 1970s and possibly into the 1980s," the summary said.
It added that some of those who were assaulted later inflicted similar abuse on others, warning that the trauma of victims could have led to mental health, or drug and alcohol problems later in life.
The report said that "there have been substantial levels of abuse" in the military and "very little evidence that perpetrators had been called to account".
"The culture within parts of defence at different times has strongly discouraged victims or witnesses from reporting abuse," it said.
Some of the accused may now hold middle and senior management positions, it added.
In March a review by a top legal firm concluded that Australia's military faced years of inquiries into allegations of physical, sexual and emotional abuse.