Six killed in Afghanistan Kapisa remote-controlled bomb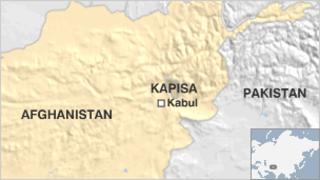 A remote-controlled bomb has killed at least six people and wounded several others in the eastern Afghan province of Kapisa, officials say.
Among those killed by the blast in a bazaar in Tagab district were an Afghan police commander, his son and two of his body guards.
Earlier this month four French soldiers were killed and five wounded in the province in an attack on a Nato convoy.
The Taliban claimed responsibility for that attack.
No group has so far said that it carried out Monday's attack.
In January the killing of four French soldiers in Kapisa prompted then-President Nicolas Sarkozy to announce a withdrawal from Afghanistan by the end of 2013.
But new President Francois Hollande has brought the deadline forward by a further year, fulfilling an election pledge.