Will polls resolve Papua New Guinea deadlock?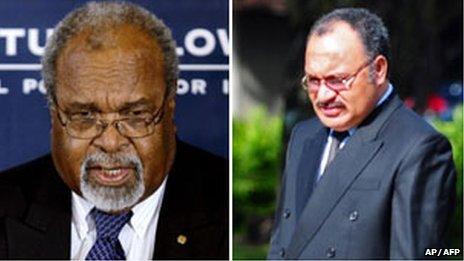 As two weeks of voting begin in Papua New Guinea's general election, the BBC's Phil Mercer looks at the tension-filled build-up to the polls.
In the erratic world of South Pacific politics, few countries have ever boasted two prime ministers, two police commissioners and two heads of the armed forces serving at the same time.
Papua New Guinea has had a tumultuous year, as parallel administrations set up by rival factions struggled for power in the resource-rich Melanesian nation of 6.3m.
"It is certainly the most serious situation we've had in Papua New Guinea since independence," explained Ron May from the Australian National University.
Last August Peter O'Neill became prime minister, replacing Sir Michael Somare, an ailing but feisty political warrior who played a key role in ending years of colonial Australian rule in 1975.
Historical sentiment counted for little when Mr Somare was dumped because of ill health.
The man fondly known as the "grand chief" was recovering from heart surgery in Singapore when he was dismissed by his parliamentary colleagues, who said he had been absent for too long and was unfit for office.
Mr O'Neill, a former businessman, was subsequently installed in the top job.
That decision was challenged in Papua New Guinea's Supreme Court - and it twice ruled the election of Peter O'Neill unconstitutional.
Confused voters were left asking just who was in charge of their country, with both protagonists claiming to be the rightful prime minister.
Mr Somare has accused his rival of demeaning parliament and of making a proud country "the laughing stock of the Pacific and the Commonwealth".
"What shame you all bring to Papua New Guinea," he said. "Mr O'Neill and his fellow rogues have crossed the line of decency."
Mr May also believes Mr O'Neill is an "illegitimate leader" who has been using his clout with MPs to try to sack the chief justice of the Supreme Court.
"Papua New Guinea has been near the brink a few times but never gone over it, but hopefully we'll have an election that will produce a result which will be accepted and we can get back to a normal state of governance," Mr May said.
Forty-six parties are contesting the polls, which start on 23 June and run for two weeks. Both Mr Somare and Mr O'Neill are running.
But while the polls may end the political squabble, there are concerns at attempts to sabotage one of the cornerstones of Papua New Guinea's democracy.
Efforts by Mr O'Neill's group to interfere with the judicial system have angered Stephen Keim, the president of Australian Lawyers for Human Rights.
"What seems to be happening in Papua New Guinea, quite aside from the political conflict, is there's a real danger the current results will result in the loss of an independent judiciary," Mr Keim said.
An ominous precedent for bullying the courts has been set in other parts of Melanesia, where independent judges have been hounded out of office in Fiji by the army, which hijacked the government in a bloodless coup in 2006 and has yet to relinquish power.
"Whenever the situation becomes difficult at a political level, it is very tempting to an executive whether they're elected, whether they're the result of a military coup, to start throwing their weight around with regards to the judiciary because an independent body that enforces the laws of the land is often inconvenient to politicians," Mr Keim added.
These elections may well be the circuit breaker Papua New Guinea's constitutional deadlock needs. The eventual winner should be able to claim an untainted victory if the ballot proceeds smoothly and fairly.
Australia is sending a military contingent to assist its nearest neighbour, while New Zealand is dispatching Iroquois helicopters to help overcome the logistical challenges of holding an election in some of the most rugged and inaccessible terrain in the South Pacific.
For the most part, Papua New Guinea's security forces have not meddled in the political stand-off.
New Zealand's Foreign Minister Murray McCully said that had prevented the crisis escalating.
"We've had two prime ministers, two cabinets, two police chiefs, two army chiefs, [and] despite all of that turmoil, there has been a strong sense of discipline among the armed forces and the police," he said.
"That's been one of the very commendable features in a very difficult time."
Related Internet Links
The BBC is not responsible for the content of external sites.