New Zealand and US to expand defence ties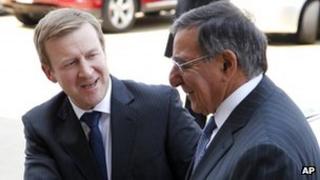 New Zealand and the US have signed an agreement to expand defence co-operation, signalling a further boost to ties between the two nations.
The deal was signed in Washington by NZ Defence Minister Jonathan Coleman and US counterpart Leon Panetta.
It will build on existing "significant security co-operation" between the two "within the context of our independent foreign policy", Mr Coleman said.
This will include maritime security and disaster relief, the Pentagon said.
The US is also expanding defence ties with Australia, in a move seen by many as a bid to balance China's increased influence in the region.
In April the first contingent of US marines to be stationed in the northern city of Darwin arrived; the US will eventually deploy a 2,500-strong force in northern Australia by 2017.
The US-New Zealand deal, entitled the Washington Declaration , promises regular strategic dialogue and information sharing, and emphasises "building maritime security presence and capabilities".
The deal follows the Wellington Declaration, signed in November 2010, that committed the two countries to regular foreign ministry, trade and military talks.
That agreement served to repair ties damaged 27 years ago when New Zealand refused to allow US nuclear-armed ships to dock.
New Zealand has banned nuclear-armed and nuclear-powered ships visiting its ports since 1985. The US traditionally refuses to say whether its ships are nuclear-armed or not, so New Zealand has refused entry to all of them.
A Pentagon spokeswoman said that this remained unchanged.
"US Navy and Coast Guard ships will not port into New Zealand, but we look forward to other opportunities to engage with New Zealand Defence Forces," Major Catherine Wilkinson told AFP news agency.