Murdoch's Australian arm News Ltd sets out change plan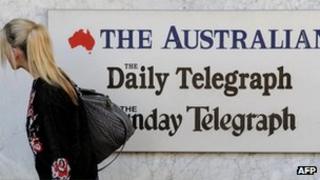 Rupert Murdoch's Australian media arm, News Ltd, has announced major restructuring, including job cuts.
Under a new structure, 19 east coast divisions would become five and key operations would be centralised.
The company, whose publications include The Australian, did not say how many jobs would go, but said it remained committed to print journalism.
The move comes after Australia's other major newspaper industry player, Fairfax Media, announced major cuts.
News Ltd, which also publishes the Daily Telegraph and The Herald Sun, controls about 70% of Australia's newspapers, with Fairfax Media controlling about 30%.
'One newsroom'
"Today we are announcing major initiatives that will see us invest and innovate to maintain our position as Australia's leading media company," the chief executive of News Australia, Kim Williams, said in a statement.
Print and digital businesses will be merged, with sales, marketing, finance and administration operations centralised.
"We will adopt a one city, one newsroom strategy with a focus on producing the best quality local content essential to meeting our new challenges," Mr Williams said.
"We cannot say today how many positions will be made redundant as it will take time to roll out the new model."
Mr Williams said that his company had to respond to technological and behavioural change.
"Print is not dead and has a strong future in which we, for one, have confidence as we build all our future consumer platforms - print, online, tablet, mobile, broadcast and social."
News of the cuts came shortly after News Limited announced it had made a $2bn (£1.3bn) takeover bid for James Packer's Consolidated Media Holdings (CMH).
A successful bid would give News Limited a 50% stake in Australia's dominant pay TV business, Foxtel, and 100% control of Fox Sports. Mr Packer said in a statement that he welcomed the proposal.
The restructuring move extends an already turbulent week for the Australian media industry.
Fairfax, which publishes The Age and The Sydney Morning Herald, said on Monday it is to shed 1,900 jobs over three years, turn the two broadsheets into tabloid format and move their websites behind a pay wall. It is also closing two printing facilities.