Afghan bombing: Three US troops among 21 dead in Khost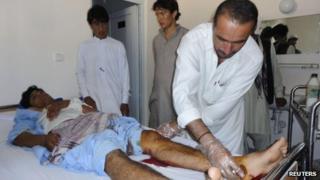 A suicide bomber has killed 21 people, including three US soldiers and a local interpreter, in the eastern Afghan city of Khost, officials say.
The attacker drove a motorcycle laden with explosives, apparently targeting a joint Nato-Afghan military checkpoint set up in a crowded bazaar.
At least 15 of the dead were civilians and two were police. Another 35 people were wounded, officials said.
In southern Logar province, a roadside bomb killed at least six civilians.
Provincial spokesman Din Mohammad Darwesh said that a tractor pulling a wagon full of people was hit by the explosives on a road outside the Logar provincial capital, Puli Alam.
String of attacks
The attack in Khost city came just before lunchtime. There were many children around at the time, the BBC's Quentin Somerville in Kabul reports.
The head of one hospital told the AFP news agency that he had received the bodies of four members of one family at his hospital.
The US embassy said the attack demonstrated that the Taliban and other insurgents were "indiscriminately continuing their murderous campaign against all, including women and children".
The statement said the US would "continue to work with the Afghan people and government for a stable, prosperous and democratic Afghanistan that no longer suffers from terrorist acts".
On Tuesday, US troops were wounded in an attack on a Nato base in Kandahar province in southern Afghanistan and, the day before, an American was killed by gunmen wearing Afghan police uniforms in Kandahar city.
Wednesday's attack was the second time this month that a suicide attacker targeted Nato troops in Khost, which is close to the border with Pakistan and hosts mainly US forces.
On 1 June, a suicide bomber drove a lorry packed with explosives into a Nato security post.
South-east Afghanistan's border provinces are a base for the al-Qaeda-linked Haqqani group, which frequently targets US and Afghan troops using suicide bombers.
The group has also been behind a string of bomb attacks in the capital, Kabul.
Our correspondent says Haqqani militants are thought most likely to have been behind both recent attacks in Khost.