President Karzai launches Afghan anti-corruption push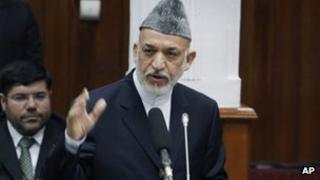 Afghan President Hamid Karzai has told a special meeting of parliament that both lawmakers and the country's international allies need to do more to stamp out corruption.
Speaking to both houses of parliament and the judiciary, he said more unity was needed to address the problem.
Previous efforts to curb corruption have produced few results, experts say.
Despite progress over the past decade, "chronic corruption" was still a problem, the president said.
"Corruption has reached a peak in this land, property grabs, government land grabs, intimidation. The lack of safety for people's homes are all pains the Afghan people are suffering," he said.
The president also appealed to the US and other countries not to give construction, reconstruction and business contracts to Afghan government officials or their relatives.
"I have told them over the past four years not to do this as it will create corruption in the Afghan administration," he said.
Mr Karzai also warned that there were also increasing signs of a stronger warlord culture.
He said that there had been a rise in the number of weapons and armed groups in the country's provinces, pointing out that insurgent attacks on Afghan security forces had increased in recent months.
"Every day we have at least 20 to 25 casualties, every day at least 20 to 25 of our youths are making the sacrifice for this country and are being killed," the president said.
BBC Afghan Editor Waheed Massoud, in Kabul, said that the president was seeking parliamentary and wider political support for reforms he wants to introduce.
These include:
Restricting the number of armed groups - and the number of weapons - in the provinces
Ending the culture of nepotism in the country by which relatives of influential people are given positions of power
Putting pressure on the US to extradite former Central Bank Governor Abdul Qadir Fitrat back to Afghanistan
Mr Fitrat quit in June 2011 claiming he was under threat for investigating fraud at the privately-owned Kabul Bank.
The government condemned his decision, adding that he himself was under investigation for fraud.
Mr Fitrat claimed the government had interfered in his efforts to pursue those responsible for corruption at the Kabul Bank, which almost collapsed in 2010 after evidence of large-scale embezzlement emerged.