Boat sinking reignites Australia asylum debate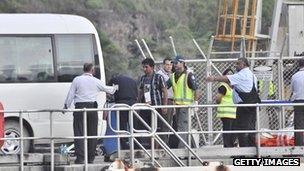 The sinking of a boat carrying 200 asylum seekers last week near Christmas Island has reignited debate over Australia's policy deadlock.
The government has renewed a call for a refugee swap deal with Malaysia to deter people smuggling.
However, the opposition is demanding that an immigration detention centre on Nauru be reopened.
Meanwhile, authorities say 17 bodies have been found, with another 70 feared dead after a three-day search.
The boat sank in Indonesian waters, 120 nautical miles (220km) north of the island last Thursday.
One hundred and nine people were rescued but the search for survivors was called off late on Saturday.
The ruling Labor Party and the opposition Liberal Party have been locked in negotiations over the fate of asylum seekers arriving by boat for months.
The opposition wants to reopen a processing centre on the Pacific island of Nauru - a policy that was heavily criticised by the Labor Party.
On Sunday, Foreign Minister Bob Carr reiterated the need to push forward the ''Malaysia swap'' plan.
Under the deal, Australia would have sent 800 asylum-seekers who arrived by boat on to Malaysia and would have received 4,000 refugees in return over four years.
But last year, a court ruled that Malaysia - which has not signed UN refugee conventions - did not offer adequate protection.
"Without the Malaysia solution you've got a cobbled together Indonesian solution that is wholly unsatisfactory, it's not protecting the borders, it's not saving lives," Mr Carr told the Australian Broadcasting Corporation (ABC).
However, opposition leader Tony Abbott reiterated that the opposition would not back the plan.
"The Malaysian people-swap is not offshore processing, it's offshore dumping," he told reporters in Melbourne.
Australia detains all those who arrive by boat, some on the mainland and some at the Christmas Island detention centre.
Christmas Island lies off Australia's north-west coast. It is closer to Indonesia than Australia, and is targeted by asylum-seekers hoping to get to Australia.
These boats are often over-loaded and poorly maintained. About 50 asylum-seekers died when their boat broke up on rocks off Christmas Island in December 2010.
Related Internet Links
The BBC is not responsible for the content of external sites.