Malaysia orders Iranian's extradition over Thai blasts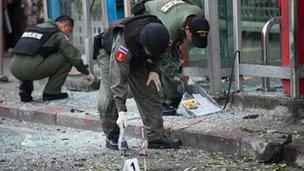 A Malaysian court has approved the extradition of an Iranian to Thailand over his alleged involvement in a bomb plot targeting Israeli officials.
A judge allowed Thailand's extradition request, saying that Masoud Sedaghatzadeh, 31, was a "fugitive criminal".
He was arrested in Kuala Lumpur a day after bombs exploded in the Thai capital, Bangkok, on 14 February.
He has denied any involvement and said he would appeal to a higher court.
Mr Sedaghatzadeh is suspected of being part of an alleged bomb plot that came to light after an apparently unintended explosion severely damaged a rented house in central Bangkok.
Another explosion happened when one of the three men escaping the house threw a bomb at a taxi and blew off his legs by accident instead.
The blasts came a day after two bomb attacks targeting Israeli diplomats in India and Georgia. Israel has accused Tehran of involvement in all three attacks, but Tehran denies any role.
Malaysia and Thailand have no formal extradition treaty. But the judge said she was allowing the application for extradition, and that the suspect was to be detained in prison while awaiting orders from the home affairs ministry.
"In my view the conduct of the respondent is inconsistent with that of an innocent man," Judge S Komathy said in Kuala Lumpur.
"The prosecution has shown that the respondent is a fugitive criminal... as he is wanted by the Thai police for offences which come within the definition of extradition offences."
Mr Sedaghatzadeh had said through his lawyer that he was on holiday in Thailand and arrived in Malaysia on business as a car parts dealer.
"I require more time to defend myself," he told the court through an interpreter.
Thai police have named at least six suspects in connection with the blasts.