Top editors at Australia's Fairfax Media to leave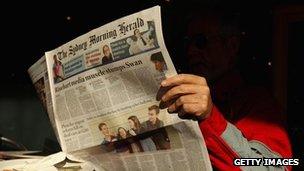 Top editors at Australia's Fairfax Media newspapers are to leave, a week after a strategic overhaul and 1,900 job cuts were announced.
Peter Fray, publisher and editor-in-chief of The Sydney Morning Herald, and Amanda Wilson, the paper's first female editor, are both leaving.
Paul Ramadge, the editor-in-chief at The Age, is also leaving.
Another large media group in Australia, Rupert Murdoch's News Ltd, also revealed restructuring plans last week.
The two companies together dominate Australia's newspaper market.
Ms Wilson, who is leaving The Sydney Morning Herald on Friday after 17 years, said it was time for her to ''hand over the reins to someone else and let them lead this transition''. Mr Fray will be leaving on 5 July, a report in the newspaper said.
Mr Ramadge, who has been at The Age for 16 years, was reported as saying that he was leaving with ''divided feelings''.
"I have decided to leave after a series of talks over the past few weeks,'' he told staff at the newspaper. ''It is in no way a sign that I disagree with the strategy announced last week.''
A report by The Age said that Fairfax Media would likely make an announcement on Tuesday with regards to ''two key appointments''.
Last week Fairfax Media said it would shed 1,900 jobs over three years and give the two high-profile broadsheets a new "compact" format. Websites of the two newspapers will also introduce pay walls from 2013 and two printing facilities are to close.
Fairfax said it was taking "decisive actions to fundamentally change the way we do business".
The moves are expected to save Fairfax A$235m ($237m, £151m) annually by mid-2015, the company said.
The Sydney Morning Herald and The Age are two of Australia's oldest newspapers.
Australian billionaire Gina Rinehart's increased stake in Fairfax Media has prompted fears that she may try to exert her influence on the two papers.
Earlier this month Ms Rinehart upped her stake in the media group from 12.58% to 18.7%. She is the largest shareholder and is reportedly seeking three seats on the board, as well as a say on the appointment of editors.
Earlier this month, journalists from the group sent a letter to the mining magnate demanding that she not interfere in editorial matters.
Related Internet Links
The BBC is not responsible for the content of external sites.