Chinese parents who lost only child 'to sue' government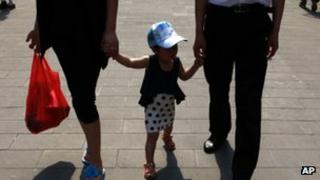 A group of 100 parents in China who have lost an only child want to sue the government for better financial compensation as they grow older.
The bereaved parents say that China's one-child policy means they face poverty, because they have no other children to support them in old age.
In China it is traditional for children to financially support their parents as they grow old.
The group of parents wants to raise awareness of their situation.
One mother, who did not want to reveal her name, told the BBC that having lost her daughter in a car crash she is worried about the future.
"If it weren't for the one-child policy, we might have had three or four children. Even if we lost one, there would still be other children to take care of us. Other citizens have the guarantee of being looked after - but not us."
The mother added that she believed the policy had benefited China - but parents who lost any prospect of offspring support with the death of their only child needed recognition and better financial support from the state.
It is estimated some one million parents across China have lost their sole child.
Chinese local authorities do have a system to provide compensation for people over 49 years of age left childless after losing their only child. But reports say levels of assistance vary widely between provinces.