Singapore City Harvest Church pastor charged over funds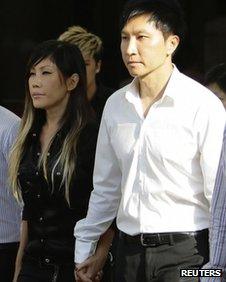 The founder of one of Singapore's richest churches has been charged for misuse of church funds.
Pastor Kong Hee is accused of appropriating up to S$24m ($18.8, £12m) to fund the singing career of his wife, Ho Yeow Sun (also known as Sun Ho).
He faces a lengthy jail term if found guilty, local media reported.
Four other executives of the City Harvest Church have also been charged, following a two-year investigation.
The five, who were arrested on Tuesday, have been offered bail of S$500,000 each. Their passports have also been impounded and they have been suspended from their duties.
Mr Kong and church board member John Lam Leng Hung face three charges of criminal breach of trust.
The other three church executives face charges of criminal breach of trust and falsifying accounts. They are due back in court on 25 July.
Mr Kong and his wife have always maintained that her pop music career is a way of reaching out to non-Christians.
City Harvest Church, which is registered as a charity in Singapore, posted a statement on its website saying it was ''not in a position to comment further''. It said church activities and services would carry on as usual.
A statement released by the Commissioner of Charities said the funds were ''used with the purported intention to finance Ho Yeow Sun's secular music career to connect with people''.
''There was a concerted effort to conceal this movement of funds from its stakeholders,'' the statement said.
The body has also suspended eight church officers from their duties - including the five who have been charged and Ms Ho.
The church said on its website that it had more than 23,000 members as of December 2010, although reports estimate its congregation at more than 30,000.
It also has affiliate churches in Singapore, Malaysia, Indonesia, India, Taiwan, Brunei and Australia.
Mr Kong appears on his own television programme, has business ventures and is also a motivational speaker.
Ms Ho, whose music career began in 2002, has several albums in Mandarin to her name and is also known in China and Taiwan.
She has also worked with American music industry figures such as songwriter Diane Warren and rapper Wyclef Jean, who produced her English album.
Related Internet Links
The BBC is not responsible for the content of external sites.