Deadly blast hits Pakistan rail station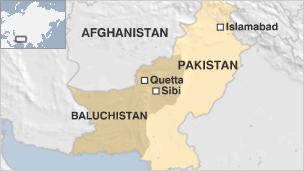 A bomb has exploded at a railway station in western Pakistan, killing at least five people, police say.
The bomb is said to have exploded on a platform at Sibi railway station in Baluchistan just as passengers were disembarking from a train.
Police say at least another 20 people were wounded, eight critically.
No group has said it carried out the attack. However, separatist insurgents and militants linked to the Taliban have both been active in Baluchistan.
The blast happened at around 23:30 local time (1830 GMT) on Wednesday, police said.
Local official Shahid Saleem told AFP news agency that the dead included a railway police officer and a young child.
Pakistani media said some of the injured were being treated locally but others had been transferred to the city of Quetta, north-west of Sibi.