Australia asylum bill voted down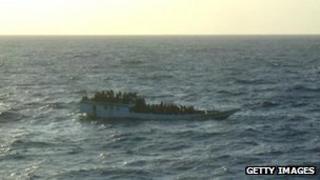 Australia's parliament has voted down an asylum bill after fierce debate reignited by the sinking of two boats in the past week.
The bill would have reopened a detention centre on Nauru and allowed the government to send asylum-seekers to Malaysia for processing.
The bill passed in the lower house but was defeated in the Senate.
Meanwhile dozens of people rescued after Wednesday's sinking have been transferred to Christmas Island.
Following the vote, Prime Minister Julia Gillard announced that an expert group led by former defence chief Angus Houston would be formed to look into possible solutions to the impasse.
She asked the group to report its findings before parliament convened again in August.
She had earlier warned that this was the ''last chance'' for parliament to pass the bill before it took a break.
"I don't want to see a 13-year-old girl drown at sea in the weeks between now and when this parliament comes back in the spring. I don't want to see that," she told ABC Radio.
But the bill was defeated in the Senate by 39 votes to 29, leaving deadlock on the issue.
"I very much regret that after 24 hours of impassioned, sincere and at times very moving debate the parliament has come to this deeply unsatisfactory impasse,'' opposition leader Tony Abbott told reporters.
"We have not a solution, but a stalemate."
Rights fears
Ms Gillard had been pushing for a compromise deal on the issue.
Her Labor Party backed a refugee swap deal with Malaysia, under which Australia would send 800 asylum-seekers who arrived by boat to Malaysia and receive 4,000 refugees in return over four years.
Last year a court ruled against such a move, saying Malaysia - which has not signed UN refugee conventions - did not offer adequate protection.
The opposition wants an immigration detention centre on the Pacific island of Nauru to be reopened instead.
The new bill would have allowed both proposals to go ahead, by permitting any country that is part of the Bali Process - a regional group of more than 40 nations working to tackle issues of illegal boat arrivals - to become an offshore processing location.
Critics say such a move would provide insufficient protection for asylum-seekers' human rights.
Australian politicians believe that offshore processing is necessary to deter asylum seekers from making the potentially dangerous boat journey.
Incidents in the past week have put the issue top of the political agenda.
At least four people are believed to have died on Wednesday when a boat sank north of Christmas Island, which is part of Australian territory.
The Australian Maritime Safety Authority (AMSA) said that 130 people had been rescued, one body recovered and another three were believed to have gone down with the vessel.
Another asylum-seeker boat believed to have been carrying 200 people sank in the area a week ago. A total of 110 people were rescued and 17 bodies were found. The search for survivors was called off late on Saturday.
On Wednesday night, another boat carrying 100 people was intercepted by Customs and Border Protection officials off Christmas Island.
Christmas Island lies off Australia's north-west coast. It is closer to Indonesia than Australia, and is targeted by asylum-seekers hoping to get to Australia.
These boats are often overloaded and poorly maintained. About 50 asylum-seekers died when their boat broke up on rocks off Christmas Island in December 2010.