Mining wealth key issue as Mongolia votes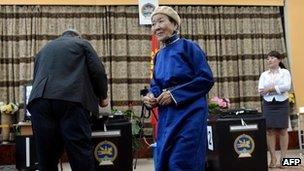 Voters are going to the polls in Mongolia to elect a new parliament in the seventh election since the end of communism in 1990.
Voters are choosing between the ruling Mongolian People's Party (MPP) and opposition Democratic Party.
Both parties are promising better wealth distribution from an economic boom fuelled by mining.
Mongolia's GDP growth was 17% last year but a third of its 2.8m population live below the poverty line.
Foreign investment in the resource rich country stands at $5bn (£3.2bn), led by the coal, copper and gold mining industries.
There are more than 1,900 polling stations across the country and results could be expected within hours of the poll closing with a new electronic voting system in place, reports said.
The MPP, the oldest political party in Mongolia, is promising a national sovereign wealth fund and support for the health and education systems.
Prime Minister Sukhbaatar Batbold, the MPP leader, has told voters the way to continued success is to give his party another four years, says the BBC's Michael Kohn in Ulan Bator.
The opposition, meanwhile, said it would complete a decade-old programme to distribute free land to citizens.
Analysts also said former President Nambar Enkhbayar's Mongolian People's Revolutionary Party could take votes from the ruling party, despite the fact that he is unable to run in the election.
Mr Enkhbayar was charged with corruption earlier this year. He denies the charges and broke away from the MPP to form his own group last year.
Whichever party comes out on top, it will need to find a balance between pleasing the interests of voters and the foreign investment community, which has poured billions of dollars into the economy, says our correspondent.